Time Jump - Date Calculator
You can't control time, but you can give it direction™
Time Theory Software created Time Jump - a full-featured date calculator with side-by-side calendars that puts time at your fingertips.
Travel through time without leaving the present!
Version 3.4 now in the App Store!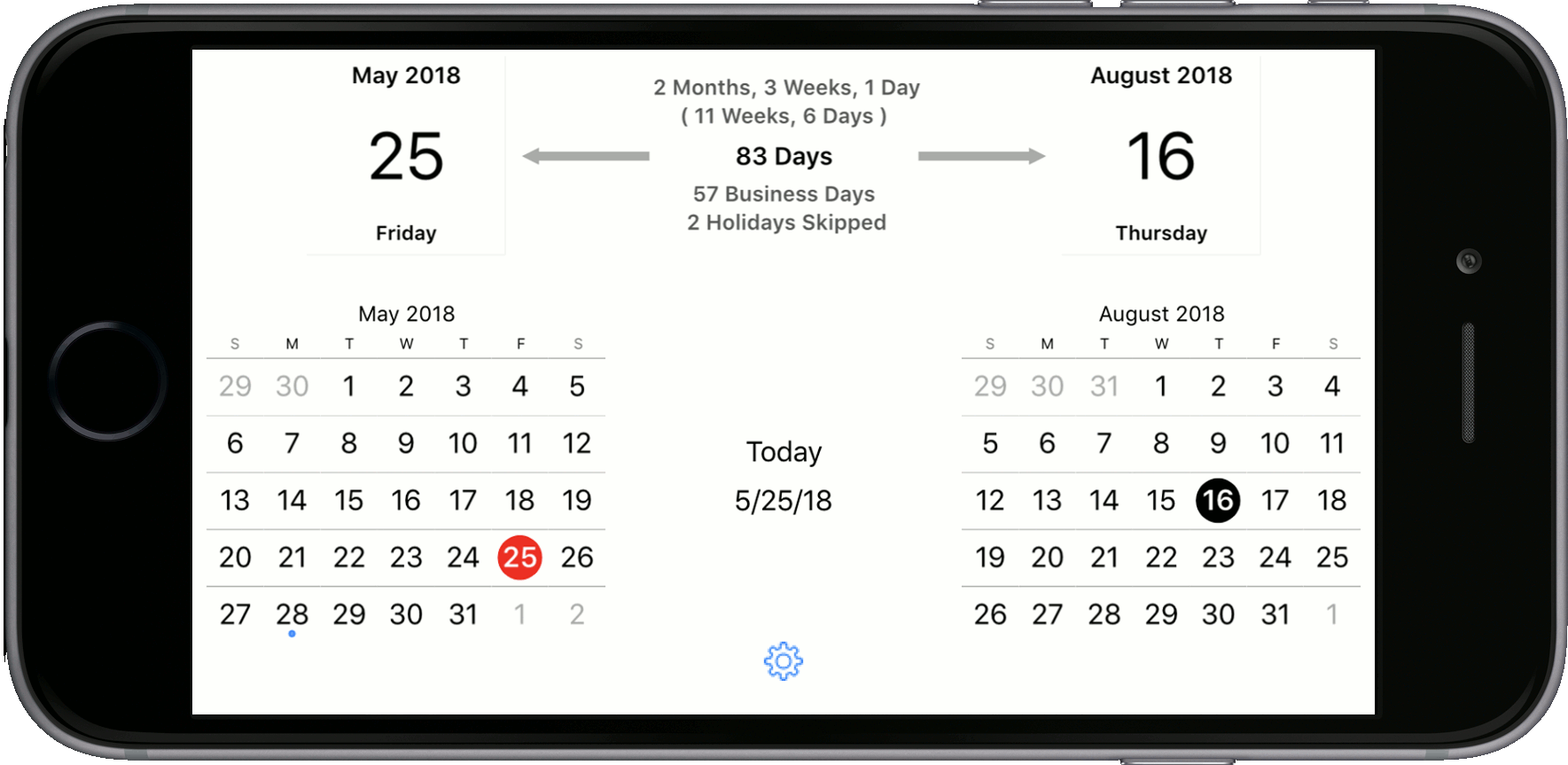 New in version 3.4 (June 2020):
Dark Mode is now fully supported.
New in version 3.3.1:
Various bug fixes including some related to Dark Mode support. Also, the minimum iOS version required is now 11.4.
New in version 3.2:
Fixed a formatting issue with the display of the weeks and days feature. Did some code clean up. Also, this is likely the last version to support versions of iOS before 11 - let us know if that's an issue.
New in version 3.1:
By customer request, Time Jump now also displays results in weeks and days...as in 11 weeks, 6 days in the screenshot on this page.
New in version 3.0:
Time Jump is now a Universal app for iPhone & iPad.
New in version 2.3:
The design and layout of Time Jump's settings has been improved to make managing holidays, calendars, personal days off and business day configurations easier and more intuitive.
New in version 2.2:
Integration with your Calendar and Personal Day Off support! To enable viewing your device calendars turn on Settings:Calendar Options: Show Events From iPhone Calendars. The tap on Select iPhone Calendars.
What our customers are saying:
"Best Date Calculator in the market - Period. I have tested about 30 different time calculators on the App Store and none of them come even close. This application is fantastic in so many ways...In a nutshell, this is the best software available for date calculations and frankly this App should be at the very top of results and not at the bottom. It took me days of flipping through tons of crappy applications to find this jewel."
​
"I use Time Jump for construction planning and scheduling. It quickly and easily helps find durations between 2 dates...Best part is Time Jump lets you select national and state holidays, and then select if they are work days or not. You can also select 5-day or 6-day work weeks - very helpful...Great support from the developers as well...I definitely recommend this app."
​
"This app lets you perform pretty sophisticated date calculations, and the dual-calendar layout and indications of holidays makes it easy to figure out what is going on. Time Jump is now my go-to app for date calculations on the iPhone."
​
"Ever wonder how many days between two dates, or wonder when 90 business days from today is? Project managers will love this app because it quickly and easily calculates this information and more, making it a necessary tool in the PM's toolbox for sure."
​
"This is a fantastic app. With so many uses in business and my personal life, the app clearly identifies deadline dates and helps in future planning. So glad I found Time Jump!"
​
"Great tool for any date calculations. Very intuitive interface and beautiful presentation of the calendars."
​
"The app is a very practical tool for any personal or professional project management activity. I use it while planning and managing internal audits at a large multinational bank."
​